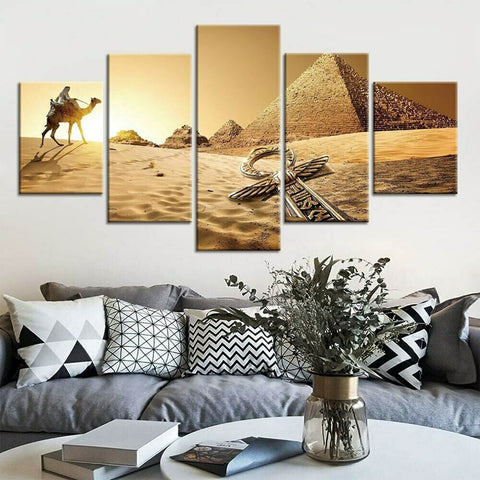 Egypt Pyramids Desert Camel 5 Pieces Canvas Wall Art Home Decor Living Room Decor Ideas
How come some people seem to have a perfectly stylish home that everyone raves about?. What makes their living room so desirable to stay in? The answer is so shockingly simple, it might even surprise you: They have great wall art. Only a statement piece of canvas wall art can quickly turn an empty wall into an epitome of aesthetics and grace. If you want to enrich the appearance of a large wall, then you must consider this 5 piece canvas art prints. They look exactly like a jigsaw puzzle wherein every piece holds a significance. The biggest benefit of buying a 5 piece set of canvas wall art is its ability to envelop the wall without making it look empty or dense. Moreover, it creates a 3D impact and makes the image appear clear and bright. Invest in a vibrant piece of artwork and upgrade your interiors without breaking the bank.
Product description:
The material isn't paper, it's a canvas fabric. Constructed with premium Inkjet canvas material for maximum color vibrancy and exceptional durability.
Our product use high quality canvas, UV-resistant, waterproof, vibrant, vivid colors, They are durable and dust resistant, color fading-resistant for years indoor.
Border type: Additional white 3cm border for free around each piece for stretching the canvases onto the frame
Our canvas is unmounted, they are just photos printed on flat canvas surface and not ready to be hang, which is a roll you'll receive. It saves money but you have to make them framed/mounted by your own way.
They can also be hang as posters with no frames which are also beautiful.
They are very good decorations for interior wall such as bedroom, kitchen, bathroom, room, office, living room, hotel, cafe, etc. peace, comfort, inspiration and hope will be brought to you, a new home will be created, and you will love them.
Packaging: Rolled up with bubble film outside the tube (size 3)  or put inside the tube (size 1 and size 2).
Size:
SHIPPING & HANDLING: 
Shipping method: Yun-Express. Tracking and secure check out are provided for all orders.
Processing Time: 5 – 7 days* in regular seasons.
Shipping Time: 10-15 days
(*) might be delayed 2-4 days due to the peak season, but we will try our best to fulfill orders as fast as we can. Average transit times are typically received in 3-4 weeks.