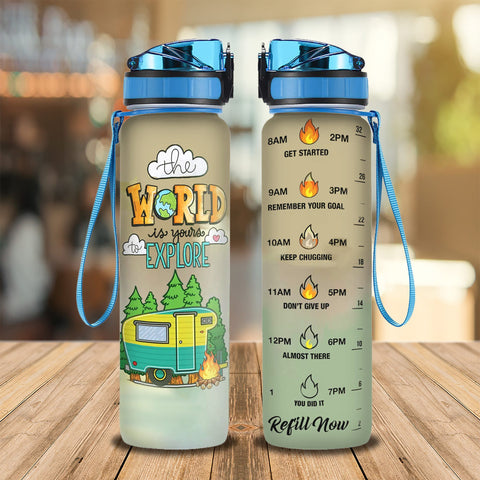 Camping Explore The World Tracker Bottle OG25 PTL260999 Water Tracker Bottle
Drinking more water can lead to clearer skin, better overall health, improved productivity and brain function, increased energy levels, and even weight loss. In fact, shifting from soda to water can save you thousands of empty calories each month. In order to build a healthy water drinking habit, it's important to track your progress every day.
A smart water bottle is a reusable water bottle that can track your water intake and alert you if you need to drink more to hit your daily hydration goals. This is especially useful if you tend to forget to drink water throughout the day.

Product descriptions:

 Made from 100% non-toxic Tritan material, our water bottles are safe to use and friendly to the environment
100% BPA FREE Polycarbonate Water Bottle: scratch-resistant, leak-proof, dishwasher safe, single wall, threaded lid with retaining loop for extra strength, Eco friendly
This motivational timed tracker features on the back of the bottle keep track of your daily intake of water. Whether you are at home, work or the gym, this motivational fitness water bottle helps you drink more water daily and stay hydrated, hit your goal for every hour to keep going. Makes you live a more healthier and active lifestyle. Helps with supplement moisture, better appetite control, weight loss.
Ideal Gift & Use Tips: Comes with a variety of vibrant colors, it is an ideal for your beloved ones, to help them keep hydrated and healthy! Clean with baking soda and vinegar.
HOT NEW product to hit the sports bottle industry. Backed by our 100% manufacture guarantee.